Mining makes temporary use of land and then land is reclaimed to prepare it for its next use.

Nova Scotia companies must get government approval of reclamation plans and post financial security to pay for reclamation before getting operating permits. This ensures that sites will always be properly reclaimed after extraction is done.

It's sometimes hard to believe how beautiful former mines and quarries can be, so here are some examples of what sites looked like a century ago and what they look like now.
---
It looks like a tropical paradise but it's actually Cape Breton's Marble Mountain.
Its white sand beach and turquoise water are the result of a marble quarry that operated there from 1869-1921. Crushed stone was pulled into the water by waves, making the beach white.
Because marble has high pH, it keeps the water at Marble Mountain soft and clear. This lets you see the white sand underneath better, making the water look turquoise. In fact, the marble's pH offsets damage from acid rain and helps keep the entire Bras D'Or Lake healthy!

World-class Inverness golf course Cabot is on the site of a former coal mine.
Coal was first discovered there in 1863 and was mined until 1958. Today, the reclaimed site is contributing to the community in a different way – with an amazing golf course that is creating jobs and attracting tourists to this beautiful corner of Cape Breton.

The Cheticamp gypsum quarry in Cape Breton operated from about 1907 to 1939.
The company later donated the land to the community and today it's a beautiful swimming hole and hiking trail. Nova Scotia has long been one of the world's largest suppliers of this key ingredient in wallboard/drywall.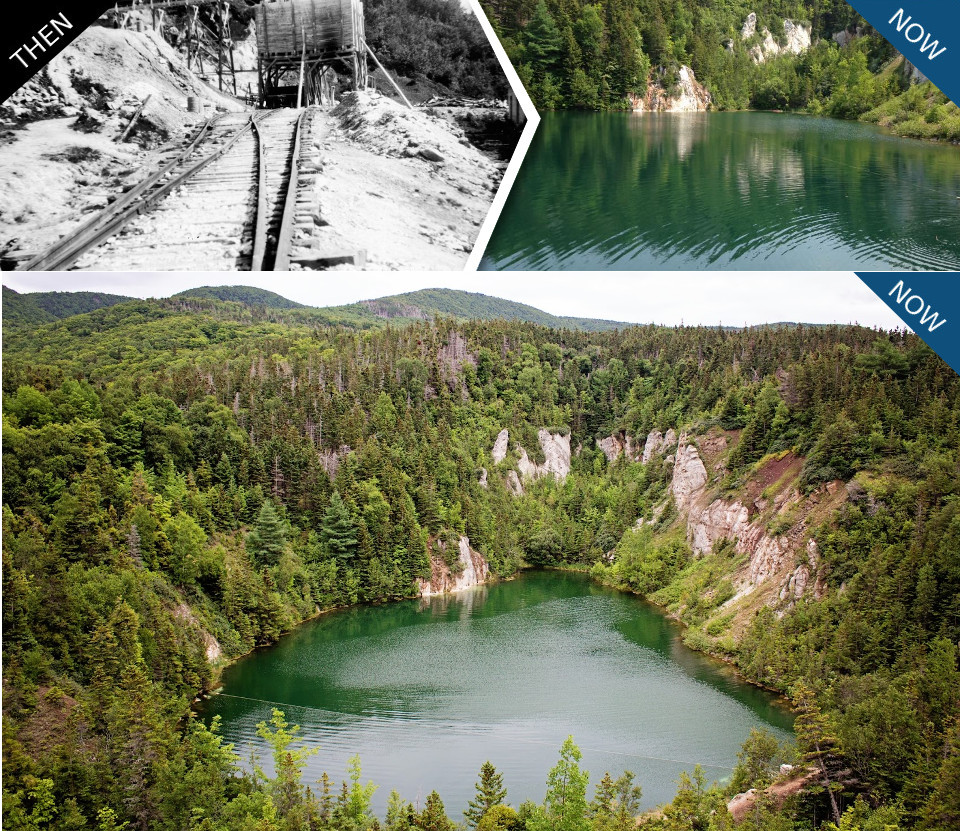 The Dingwall gypsum quarry in Cape Breton operated from the mid-1930s until 1955.
The company reclaimed it and now it's a beautiful site that combines white gypsum outcrops with forest and ocean views.

When gypsum mining started in Nova Scotia in the 1700s it was done by farmers, not miners. Gypsum from farms was exported from Windsor to the United States for use as fertilizer. Today, the main use of Nova Scotia gypsum is wallboard/drywall production, although a little is still used as fertilizer.
The Walton Quarry in East Hants started producing in the 1800s and continued until 1972. Today the quarry, like many other former mines, is a lovely lake.

Gypsum quarrying began in Hants County in the 1700s.
There have been many quarries in the area over the years, including two in Kempt Shore near Cheverie. The Kempt Quarry Recreation Site is now a beautiful lake.

The first salt mine in Canada was in Malagash, Nova Scotia.
It operated from 1918-1959. Can you guess where the mine was located in the satellite image? Probably not. Reclaimed mines blend back into the environment!

-- See some of our favourite 10 YEAR CHALLENGES --