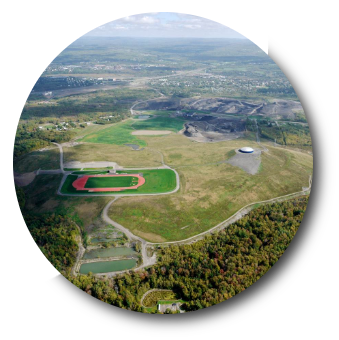 Reclamation
Mining is an environmentally-responsible industry that makes temporary use of land, and then reclaims it for other purposes, such as natural space, recreational areas and commercial and residential development.
Reclamation, or preparing a mine or quarry site for its next use, is key to ensuring future generations will continue to enjoy an area after we have taken from the ground the materials that we need to support our modern society. Mining and quarrying companies are committed to minimizing our environmental impact while working on a site, and then to reclaiming it in ways that maximize its use for communities.
The government requires that all new mines, quarries and pits post a reclamation bond – at least $2500 per acre used - and submit a rehabilitation plan that addresses key issues such as surface contouring, proper drainage and re-vegetation. This ensures that there is a proper plan in place, and funds available, to prepare former mines and quarries for their next use.
Reclamation is done on an ongoing basis as areas of mines and quarries are completed, which limits the size of the area in actual production, and ensures that environmental considerations are a daily concern for companies, not just an afterthought. Total reclamation of a site must be completed within a year of an operation ending.
WE GIVE BACK