Halifax 1867
Nova Scotia's early gold miners, 100-150 years ago, didn't take proper care of the environment. But no one did back then. It was a different time and mining is totally different today. 
To put it in perspective, consider author and mining agent Alexander Heatherington's description of life in Halifax in 1867 during Nova Scotia' s first gold rush:
Garbage is "put into boxes or barrels in front of the house until cleared away by the wind, or the city scavenger."
Sewage ran untreated into the harbour through drains that "probably on account of the cost of cutting through the rocky ground, are only from eighteen inches to three feet in depth, a fact of which one is unpleasantly reminded in dry warm weather on passing near the open gratings."
Halifax, which was only four miles long by two and a-half broad, had "numerous dirty, unpainted, and irregular shanties which now disfigure it." 
Only Granville, Hollis, and Pleasant streets were paved with stones or bricks.
Regarding the Public Gardens, he said "The military and naval bands perform there at times, but it contains nothing to make it otherwise permanently attractive."
"There are not half a dozen private gardens in the town worth visiting, the majority being shabby and neglected."
The Halifax Commons "contains no shaded avenues, fountains or parterres. Much of the ground is swampy, and although mostly used for cricket and drill exercise, it seems, too, a kind of morgue for cats, dogs, and hoop-skirts."
The path round the Citadel's moat had been "a favourite promenade," but the public had been kept out since "the threatened Fenian invasion." 
The city was lit with gas lamps that were "generally so dirty that the light reflected from them merely serves to make darkness visible."
Halifax hotels were so shabby that "they are all excelled by any second rate hotel in the United States..."  They charged between "a dollar-and-a-quarter to two dollars for transient boarders."
Travel was by horse-drawn carriages, not cars, and streetcars had only been established two years earlier (over the opposition of many who objected to the change.) 
In other words, environmental standards, and most things, were different then.
Misconceptions about modern gold mining stem from that era - from historical mining practices that we agree were not good enough. No industry took proper care of the environment 100-150 years ago. From this description of Halifax, it's clear that society in general didn't take care of the environment then.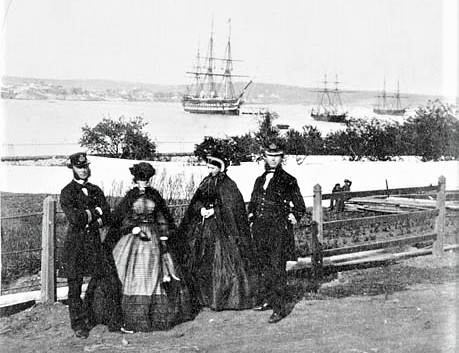 Mining today is a sophisticated, science-based business that takes excellent care of the environment while providing essential materials we all use every day.
Learn more at https://notyourgrandfathersmining.ca/modern-gold-mining