Robert Henderson and Klondike Gold
A Nova Scotian co-discovered the Klondike's gold...but it wasn't the happy occasion you would think!
Robert Henderson was born in Pictou County in 1857. He became obsessed with finding gold after reading Alaskan histories as a child.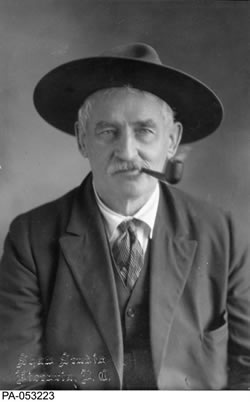 He left home at the age of 14, prospecting for gold in Australia, New Zealand, and Colorado, before heading to the Canadian north. He arrived in the Yukon in 1894 and prospected several areas before Joe Ladue convinced him to try Indian River. Ladue, a miner and sawmill operator, believed the unexplored Indian River had great potential and he grubstaked Henderson to explore the area in exchange for a share of any profits.
Henderson's work in the Indian River watershed produced little gold, and over the winter of 1895-1896 he made the decision to cross over the divide at the head of Indian. On the other side, he discovered respectable quantities of gold in a creek he named Gold Bottom.
In August 1896 Henderson was drifting downstream in the shallow waters of the Indian River, heading toward Forty Mile to get supplies for the men panning for gold at Gold Bottom Creek. Realizing that the low water of late summer would jeopardize his flimsy skin boat, he decided to go down the Thron-Diuck River instead. (Thron-Diuck is an aboriginal name meaning "Hammer Water." Early settlers had difficulty pronouncing it so the name became anglicised as Klondike.)
It was a fateful decision – Henderson encountered George Washington Carmack and his brothers-in-law, Skookum Jim and Tagish Charley. Henderson told Carmack about Gold Bottom, just as he had told everyone he had come across. Henderson believed in the unwritten prospector's code which promoted the free exchange of information. He encouraged Carmack to stake a claim at Gold Bottom.
On August 17, 1896, Carmack, Jim and Charley triggered the Klondike Gold Rush when they discovered gold on Rabbit Creek and renamed it Bonanza Creek.
Henderson did not find out about the strike until all the richest claims were staked. He was bitter about losing out and sought compensation through the Canadian government. The government eventually granted Henderson a small pension and officially recognized him as "co-discoverer" of gold in the Klondike (although the discovery dispute has never been completely resolved - Carmack claimed he made the find and Jim and Charley claimed that Jim did).
In 1898 Henderson moved to the United States. He returned to Dawson City in the early 1900s, working in the Government Mining Engineer's Office. He later moved to British Columbia where he died in 1933.
Ladue founded Dawson City on August 28, 1896 as the gold rush started. He became a wealthy man selling the town's lots. Lots that he couldn't sell for $5-$25 in the early part of the winter of 1896-1897 he was later able to sell for $800-$8,000. He also moved his sawmill to Dawson and sold supplies to prospectors and miners as the gold rush drew 5000 people to the area. He moved back home to New York State but died in 1900.