Indian Path
Gold was discovered in Indian path, Lunenburg County, in 1862. Several veins were uncovered and a shaft was sunk 25 feet on one of them. A rock crusher was built and operated by means of waterpower.
Additional prospecting was done in 1869 and ten or twelve leads, varying in width up to 5 feet, were exposed. A test of 25 tons of ore showed that it could be crushed at a profit of a shilling per ton.
Another discovery in 1869 was that a great deal of gold had ended up in the tailings as waste instead of being recovered in the milling process. This was a common problem in that era as significant expertise was required to do the processing effectively.
Exploration continued in 1870 but work in the area declined afterwards.
In 1876, a small amount of quartz was crushed but only three ounces of gold were produced. In 1884, a 10-shamp mill was built and run by steam power. The mine was pumped out but no production was reported.
In 1896, A. J. Cowie of Halifax rebuilt the 1876 mill and crushed a few tons of ore, but the results were not encouraging and the work stopped. Cowie also reported producing five ounces of gold at The Ovens that year.
This was presumably Doctor A. J. Cowie, a medical doctor whose life reads like an old-fashioned adventure novel. He grew up in Liverpool, Nova Scotia, around his father's businesses in lumber, milling, a tannery and ships. He studied at King's College and went to sea on one of his father's ships in his late teens. He travelled to the West Indies, England and South America. He survived a rogue wave that nearly sank the ship on an otherwise calm day. After the crew limped into Rio de Janeiro, he caught yellow fever there.
After passing the exam to qualify as a First Mate, he decided instead to go back to school and study medicine – still only 21 years old!
He had "considerable microscopic training at King's College" and is believed to have been the first Halifax doctor to use a microscope for medical work. He practiced medicine with Charles Tupper, who was later Premier of Nova Scotia and Prime Minister of Canada.
In 1861 Cowie was one of two doctors in Halifax who served as City Vaccinators during the smallpox epidemic (the other was a Dr. Gossip). People with smallpox were the first patients at Halifax's Victoria General Hospital, which opened that year. Cowie practiced medicine for 55 years before retiring.
While Cowie was not very successful at gold mining, it was another interesting activity in a life well-lived!
Some prospecting was later done at Indian Path for Charles Uniacke Mader, a wealthy merchant and a Member of the Legislative Assembly from 1904-11. He was the owner of Mader's Wharf, a Mahone Bay landmark that has been home to many businesses over the years.
Only the one vein was ever worked at Indian Path and the deepest pit was only 35 feet, a very modest depth. A total of 50 ounces of gold were produced, 38 of them in 1869.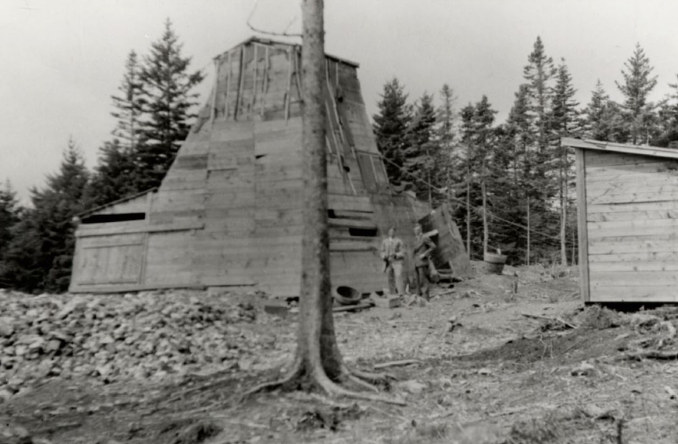 Indian Path was active again in the 1930s but with a focus on tungsten this time, which was discovered northeast of the gold mine. When WWII started, strategic metals like tungsten were in high demand. Tungsten was used as filaments in lightbulbs. Because it is the metal with the highest melting point (3,422 °C), it was also used in plane engines and munitions.
A 76-metre shaft was sunk and a processing plant built. Mining continued until 1943 when the known tungsten zones were becoming depleted and as the wartime need for tungsten diminished.
It remains a bit of a geological mystery why some Nova Scotia gold districts have significant amounts of tungsten associated with them and other districts do not. Given the global interest in Nova Scotia's gold deposits, maybe future exploration will help us better-understand our potential for tungsten.